rock midgets home -> live -> live reviews
06 Jun 2010
–
Murder By Death
Glasgow Garage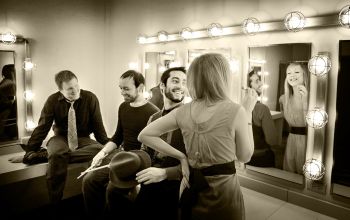 It's easy to see how Macabre Scene landed the slot as opening act tonight. Despite not proving a particularly snug fit stylistically, there are moments here when the three-piece share the headliners' fondness for whisky-drenched contemplation. In between, however, what's on offer is fairly unremarkable stop-start fuzzbox indie, and although the early arrivals seem happy enough, there's not too much going on here to suggest that Macabre Scene merit much more than opening act status.
The Scoundrels fare a little better. With more of an ear for an infectious melody than their predecessors, their brand of layered rock proves a more enticing proposition, and although they've outstayed their welcome come the end of their set, with a few more killer songs and a shade more energy, they've got the potential to mature into a polished, well-rounded live act.
In the two years since they last visited, much has changed for Bloomington's Murder by Death. With new album Good Morning Magpie [RM Review] finding them on gentler, more optimistic form than recent years, theirs is a live show that never wants for diversity.Whether it's the gothic, piano-laden country theatrics of 'Sometimes The Line Walks You', the lilting, summery folk of 'Yes' or the apocalyptic strains of new album closer 'The Day', there's a sure-footedness to all of this that makes them all the more convincing in the live arena.
While Adam Turla's trademark bourbon-enhanced baritone remains the most distinctive part of MBD's sound, it's undeniable that Sarah Balliet is their real ace in the hole. Alternating effortlessly between cello and keys, it's her virtuosity that brings the likes of 'Ball and Chain' to life in staggering style. Their policy of rotating the setlist almost entirely every night means there's no room for recent singles 'White Noise' and 'As Long As There Is Whisky in the World', but there's such a formidable mixture of old and new on offer here that to find fault with the setlist would be ridiculous. Shunning a host of unplayed possibilities to close with an instrumental obscurity, it's indicative of the kind of confidence that's ushering along Murder by Death's maturing into one of the finest bands of their generation.
Further links
Official page of the Indiana Americana band