rock midgets home -> live -> live reviews
24 Apr 2010
–
Evelyn Evelyn
Bush Hall, London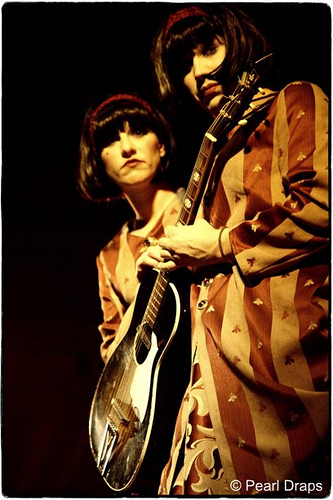 – photo by Pearl Draps
PHOTOGRAPHER REPORT:
Evelyn (Amanda Palmer) Evelyn (Jason Webley) have to be one of my favourite things this year. It was one perfect way to spend a saturday evening : a nice place (Bush Hall), nice people (yes, the Amanda Palmer fanbase are a bunch of arty, relaxed and funny people) and most importantly, one amazing performance.
The show was set in 3 parts, and started by the lovely Evelyn Evelyn who would make you think of the famous Pumpkins' Siamese Dreams cover girls or the Tim Burton's Big Fish sisters.Amanda was the right handed, and Jason the left handed werther at the piano, guitar or accordeon. Their performance was very burlesque helped by this beautifully tailored dress and quality songs. Some guests joined the stage and participated to some very funny but witty songs that were mostly about nowadays situations and events ('Tragic Events', 'My Space') or the sisters themselves ('Have you seen my sister Evelyn?' 'You Only Want Me 'Cause You Want My Sister') and some great covers ('Lean On Me' and 'Love Will Tear Us Apart')
The second part of the show was a very moving solo performance. Jason joined a little later on by Amanda who took the stage on her own for the last part of the evening. Once again, she amazed her audience by her incredible personality and perfomance powers. A beautiful set of songs for a beautiful night.