rock midgets home -> live -> live reviews
24 Feb 2010
–
Faith No More
Melbourne Festival Hall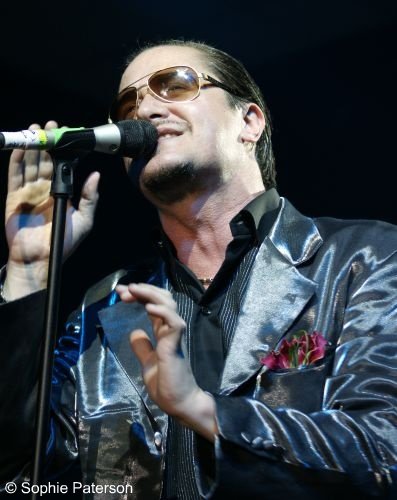 – photo by Sophie Jane
At the Festival Hall in Melbourne on February 24th, 2010, the excitement was felt around even before I got into the venue. If Faith No More were going to be as great as they'd been at Sydney Soundwave, there was so much to get excited about.
The idea of a joint show with AFI was not well received by a lot of fans of both bands, but no other venue was available in Melbourne, and the next day show sold in record time. Luckily the arrangement worked well. AFI still got to do 12 songs, and just like at Soundwave festival performances in Brisbane and Sydney, the set list mainly consisted of recent tracks from Crash Love, which was a little disappointing for the fans who had originally bought tickets just to see AFI and wanted to hear the classics.
Up next was alternative comedian and compere Neil Hamburger - musician, comedian and former Mr. Bungle tour manager Gregg Turkington's cringeworthy, but hilarious alter ego. Always seen holding a drink in one hand, wearing a tuxedo, complete with skanky looking greased down hair and large geeky glasses, this slob of a character belches loudly and clears his throat a lot, telling crude toilet humour jokes involving various celebrities, his favourite victims being the Red Hot Chilli Peppers ("How many Red Hot Chilli Peppers does it take to screw in a lightbulb? - Well, it depends on how recently they've shot up!" and Madonna "Why did Madonna feed her baby dog food? - because that's what came out of her breasts!" The audience were impatient and chanted Faith No More! Faith No More! louder and louder, but he just taunted and teased more and more.
Finally Neil introduced the band everyone was waiting for. Faith No More came on, wearing black suits this time, to perform their version of Peaches and Herb's soul classic 'Reunited'. The set was varied to what they performed in Sydney the night before at Soundwave, and they played around with a number of covers. "Portuguese muthafuckers!"shouted Mike Patton, as he decided to sing the second half of 'Evidence' in Portuguse. They paid homage to Lady Ga Ga yet again with a bit of 'Poker Face' for the intro to 'Chinese Arthimetic'. Heavy stuff with 'Cuckoo For Caca, then chilled out vibes with the cover version of The Commodores hit 'Easy'. And, of course, a tribute to New Zealand hitmakers Crowded House, Patton sang 'Don't Dream It's Over' flawlessly to break up 'Midlife Crisis' -"Don't dream it's over Melbourne, don't dream it's over!" he mugged.
The band were in good spirits, Roddy Bottum and Mike Patton joking around with the crowd, asking, "Why aren't you seeing any of the younger bands who are in town? Why have you chosen to come and see a bunch of old yanks like us?" Mike decided to flop himself into the audience during 'Caffeine' and got up to his usual tricks while singing 'Just A Man', a song which has over excited him at most shows. At a FNM gig, always expect a poor security guard to get humiliated in some form. This time, Mike climbed onto a security guards shoulders and sung while getting a piggy back along the front of the stage.
The shenanigans continued into the encore(s). Mike picked up his megaphone and chanted the traditional Australian cricket chant, "Aussie!Aussie!Aussie! Oi!Oi!Oi!" then "Ole!Ole!Ole!" into the theme tune of the movie 'Chariots of Fire', which flowed into 'Stripsearch'. There was some fun drum solo playing around from Puffy, before they did 'As The Worm Turns'. Some of the audience thought that was it after they left the stage again, and the second encore was a surprise. In tribute to Burt Bacarah, who had prosponed his Australian tour due to back surgery, the band brought out their cover of 'This Guy's in Love with You' . It was great to hear it as the second to last song at the Festival Hall, just before the finale with 'We Care A Lot'. I'd have choose this bunch of old yanks above any other band anytime.
Setlist for February 24th
Reunited
From Out of Nowhere
Land of Sunshine
Be Aggressive
Evidence
Gentle Art of Making Enemies
Chinese Arithmetic (with Lady Gaga 'Poker Face' intro.)
Last Cup of Sorrow
Cuckoo For Caca
Easy
Ashes to Ashes
Midlife Crisis (with Crowded House 'Don't Dream It's Over' in the middle)
Surprise, You're Dead
King For a Day
Caffeine
Epic
Just a Man
Encore #1
Stripsearch
As the Worm Turns
Encore #1
This Guy's in Love with You
We Care a Lot
Further links
Myspace page of California's melodramatic punks, AFI
Official page of the recently reunited band
Site for musician and artist Gregg Turkington's alter ego