rock midgets home -> live -> live reviews
06 Mar 2010
–
Tubelord
The Hippodrome, Kingston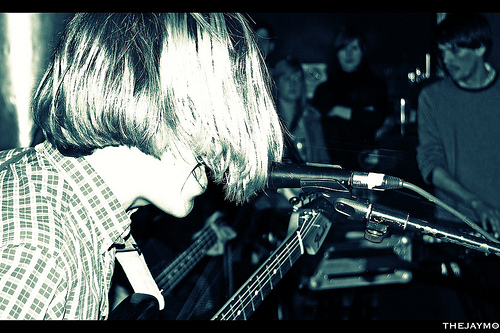 – photo by thejaymo
It's Saturday night in Kingston, so what better way is there way to spend the evening than checking in on two of the best local bands the town has to offer. Given the fact that two thirds of the trio used to be in Colour - and one of them is chief songwriter/vocalist Alan Welsh - it's hardly surprising that Tangled Hair trade in a very similar vein of mathy indie-pop. While their remarkable intricacies and restrained guitar tapping ways may fly over the head of some punters gathered in The Hippodrome's third room with the sole intention of rocking out, others are utterly enraptured by the sumptuous melodies offered up from their recent First EP. It may be early days for the band, but Tangled Hair are clearly destined for big things.
Reaching the climax of their two week nationwide tour with Tall Ships, if Tubelord went down half as well on their prior dates as they do at tonight's homecoming show then it will have been a tour to remember. Right from the moment opening track 'Your Bed Is Kind Of Frightening' suddenly bursts into life, they have the entire crowd joyously singing and leaping along in unison. Treating us to the many highlights of last year's criminally overlooked debut album Our First American Friends, as well as promising new number 'Vessels', there's simply not one weak link in the band's set list. From the jet propelled guitars and brilliant two-way harmonies of 'Propeller' to the angular, almost post-hardcore riffs of golden oldie 'Feed Me A Box Of Words' - there's so much to admire about Tubelord and the way the way their accessible-yet-difficult songs never fail in reeling you time and time again.
With lesser British acts blowing up huge all the time, here's hoping that Tubelord start getting the kind of attention their unwavering brilliance deserves. Fantastic.
Further links
MySpace page of the Kingston-based youngsters
Shock horror, band in cracking website shock. Visit Kingston's Tangled Hair online.