rock midgets home -> live -> live reviews
25 Feb 2010
–
Faith No More
Melbourne Festival Hall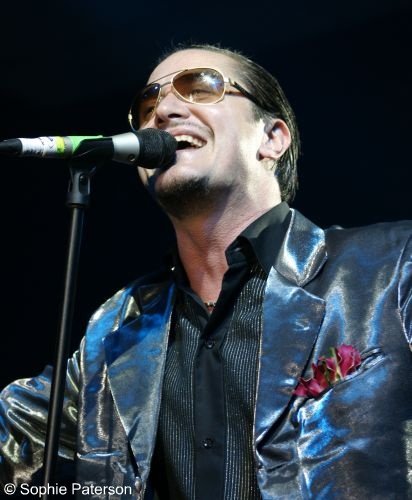 [Photo taken 24/03/2010] – photo by Sophie Jane
Having been to such an amazing show, I didn't think they could beat it the next day, but I was wrong. Back at the Festival Hall again and the atmosphere was even more excitable than the night before, as this was the original sold-out sideshow that the die-hard Faith No More fans bought tickets for fast. The venue was a lot more packed and hotter.
Neil Hamburger is the best intro any band could have before they come onstage. Didn't matter that the fans were even more impatient this time, loads more loud boos and even cups being thrown at him onstage - it made me wonder if people realised it was part of the act!
Dressed in pastel coloured suits and opening with the theme to the movie 'Midnight Cowboy', Faith No More kicked into The Real Thing. The setlist was different to the night before - 'Evidence' was all-English version and instead of a random over of a Crowded House song, the intro to the Stevie Wonder song 'Sir Duke' was played. Still toying around with the cover versions, the popular version of The Bees Gees hit I Started a Joke was followed by Patton having a hilarious sing-a-long of a song famed by Aussie rocker Jimmy Barnes, as an intro to 'A Small Victory'.
The gossip from a few nights ago was still doing the rounds. Patton asked us whether anyone was on Twitter, probably encouraged by all the gossip on the subject of the flashing incident at Brisbane. Patton also had a rant about the "Poms", saying that there are definitely a couple of Poms in the audience (yes - including me!). However, there was more to come.
Just before leaving before leaving the stage, Patton crooned another flawless performance of 'Just A Man', and walked to the left of the stage where I was standing and sat on an amp right in front of all of us. He then stood up and by the time I realized, "Oh God, he's going to jump off..." it was too late! Okay, so hundreds of female fans would love Mike Patton to fall on top of them, but not quite in that hard way and amongst sweaty people! [Ahem... Click here for footage of the jump - Ed.]
He got everyone to click their fingers and we all realize it's 'Edge of the World'. Patton forgot the words and got the crowd to singalong towards the end! At least he remembered the words to rare live track 'Mark Bowen' before the band left the stage again. Second encore and few (including me) could work out it was a cover of Siouxsie and The Banshees song 'Switch'. I was hoping for RV from Angel Dust, as it's so different to any other Faith No More song, it's a shame we never heard it in Australia, but I'd still rather have been here than at any of the other Sideshows that night.
Setlist for February 25th
Midnight Cowboy
The Real Thing
Land of Sunshine
Caffeine
Evidence
Gentle Art of Making Enemies
Last Cup of Sorrow
Riccochet
Easy
Midlife Crisis (with Stevie Wonder snippet)
Epic
I Started a Joke (followed by a Jimmy Barnes sing-a-long)
A Small Victory
Surprise, you're Dead
Ashes to Ashes
Just a Man
Encore #1
Edge of the World
Mark Bowen
Encore #2
Switch (Siouxsie & The Banshees cover)
Stripsearch
Further links
Official page of the recently reunited band
Site for musician and artist Gregg Turkington's alter ego