Live
20 May 2010
–
Alkaline Trio
The Hippodrome, Kingston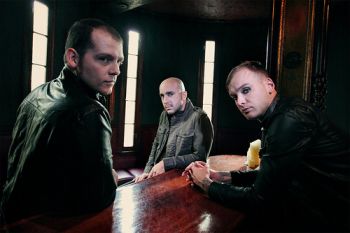 It says something about how frigging great The Steal were that RM is just as excited to see Pacer - Dave House and Mark Pavey's new outfit - play one of their first shows together as we are to see tonight's headliners. Thankfully the four-piece don't disappoint one iota, with their impressive half dozen tracks showing an evolution away from the melodic hardcore of The Steal's output to more Descendents-like sing-along punk territory. Definitely watch this space.
When watching a band like NOFX live, it's fair to say that some fans have come to enjoy the between songs banter just as much as they do for the music. On the first night of their UK tour, it's fair to say both Alkaline Trio and tonight's boisterous crowd are in rather talkative mood. Although billed as a short acoustic set, the title track of their new album This Addiction kicks matters off and the Illinois outfit proceed to play over a dozen songs over the course of the next hour. While the likes of 'Emma' and 'Dine, Dine My Darling' keep matters ticking along nicely, the three-piece soon slow matters down and start sharing tour stories and taking requests from the audience, with drummer Derek Grant impressively knocking out off the cuff covers of 'Total Eclipse of the Heart' and 'Born to Run' amongst many others. While most of the crowd are understandably elated at seeing one of the biggest pop-punk bands of the last decade in such intimate surroundings, unfortunately there's also a few too many dickheads who can't help but try and ruin the mood and repeatedly yelling at the band to play their biggest hits, with one punter getting a well deserved "fuck you" from a particularly riled Matt Skiba at one point - while another rowdy group get thrown out of the venue by security.
As cover of Misfits' classic 'Skulls' and golden oldie 'Radio' close proceedings, you're left with mixed feelings after seeing Alkaline Trio play such a rare acoustic show in the UK and knowing that both the band and 99% of the crowd would have enjoyed everything so much more without the disruption of those handful of idiots.
Further links
Official page of the US punks with a taste for the darker side
MySpace page of Kingston punks Pacer