rock midgets home -> features -> articles
50 THINGS TO DO OVER CHRISTMAS WHEN YOU'RE BORED
Ruth Midget's guide to the best music downloads and other activites to indulge yourself with over the holiday season
Left: You better not pout, you better not cry... Because he'll kill you.

Here at Rock Midgets.com, we don't just provide a portal to all things spanky in the world of rock, we also provide a public service. In honour of this role, we hereby give you our guide to preventing boredom over the festive season. We've spared no expense, bringing together a bunch of stars, whizzy technology, a great soundtrack... and unusual uses for turkey leftovers. So without much further ado, here's our snappily-titled guide to the 50 Things To Do Over Christmas When You're Bored.
BEFORE CHRISTMAS...
1) Email santa@frank-turner.com and tell Frank Turner what you want for Christmas in return for some FREE download goodness on the day in question. And why not watch the new video HERE while you're at it? For more information, see www.frank-turner.com/santa.html.
2) Pre-order the new Iron Maiden tour souvenir single. No, really. You get a poster and all sorts of streamed goodies if you preorder. Go on. http://www.7digital.com/stores/default.aspx?shop=355&partner=272
3) Realise you haven't bought a present for auntie/best friend/worst enemy. Panic about shop opening hours. Decide to pretend to have forgotten.
4) Go to a gig wearing at least half a yard of tinsel.
5) Hold out on putting up any Christmas paraphenalia until 11pm on Christmas Eve.
CHRISTMAS DAY...
6) Stare at your watch and wish it was a more socially acceptable time to drink.
7) Start drinking anyway.
8) Start early on the Christmas pudding. Top up alcohol content with the vodka. Attempt to light.
9) Put out ceiling fire. Attempt to disguise the burn with random overlarge decoration.
SIT IN FRONT OF THE TELLY
10) Watch all the morning kids cartoons and films. Moan about how it isn't as good as it was when you were a kid, but cry when The Snowman comes on.
11) Watch The Sound Of Music and play the nun drinking game. Every time you see a nun, take a drink. Yes Maria is technically a novice, but she still counts. If you're still standing by the wedding, you clearly cannot count.
12) Karaoke.
13) Sculpt a lifesize model of Christina Aguilera out of used wrapping paper and beer cans.
14) Sculpt a lifesize model of Dawn French out of used wrapping paper and beer cans.
15) Give up and fill the recycling bin.
16) Play random friend/relative's new Nintendo Wii. Praise the stylish graphics, and unique playing style which really immerses you in the gaming experience.
17) Collapse with exhaustion after five minutes of a tennis game.
18) More drinking.
19) Attempt to programme new DVD recorder using Japanese instructions only.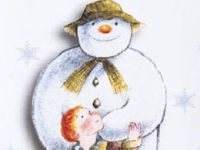 The Snowman: Disturbing
SIT IN FRONT OF THE COMPUTER
20) Watch Electric Eel Shock's bonkers Christmas Message at www.youtube.com/watch?v=pzODsjfnRgQ
21) Watch FFAF's latest video message at www.myspace.com/funeralforafriend
22) Open your Christmas present from Get Cape Wear Cape Fly www.getcapewearcapefly.com/xmas
23) - 29) Download some (legal) downloadable Christmas Day singles and seasonal choons.
24) Download Frank Turner's Christmas single 'Vital Signs' (complete with b-side 'Heartless Bastard Motherfucker'). NB. You may be somewhat buggered if you haven't already done 1) (for more information, see www.frank-turner.com/santa.html). If you didn't pre-order it, console yourself by watching the video again and play spot the rock midget.
25) Download Biffy Clyro's Christmas single 'Semi-Mental' from http://www.biffyclyro.com/
26) Download The Mules' version of 'The Wassail Song' from www.myspace.com/itsthemules
27) Download The Knife's Christmas version of 'Reindeer' from www.silentshout.co.uk/christmasreindeer
28) Download Blah Blah Blah's 'Caravan Christmas' from www.myspace.com/blahblahblahandfriends
29) Check out the new remixes of Thom Yorke's album The Eraser at www.theeraser.net
30) Listen to the Far plus friends version of 'Do They Know It's Christmas' at www.myspace.com/far
28) Buy the downloadable album A Santa Clause 2, including tracks from Sugarcult, Haste The Day and more, a percentage of the profits benefiting Cure Autism Now. Check it out at www.myspace.com/asantacause
29) Check out the last of the free tunes uploaded to the New Ears Day website at www.newearsday.com/, including Yndi Halda, Fionn Regan and more.
29) Use the above downloads to create The Best Christmas Compilation In The World Ever (2007) and force the entire family to listen to it all day.
30) Get into a massive fight over housemate/sibling/other relative's choice of Enya/Westlife/McFly CD instead.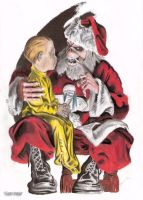 Iron Maiden's Eddie: Not Disturbing
RUN OUT OF THINGS TO DO
31) Go for a brisk walk in the snow (NB. May involve getting a flight to Norway first).
32) Come up with a list of ingenious non-food uses for leftover turkey (#24 Press five layers of Turkey together, attach a couple of rubber bands, and voila! Flip flops.)
33) Count the number of times ITV can show the Jurassic Park trilogy in one year.
34) Make up a brand new politically correct Christmas fairy tale, where Everyone Learns A Valuable Lesson About Sharing.
35) Fail to remove decorations after the twelfth day of Christmas.
36) Craft a fashionable tank top/off-the-shoulder top for New Year's Eve out of that jumper your Gran knitted you with the too-short sleeves.
37) Start researching suitable prices for socks on ebay.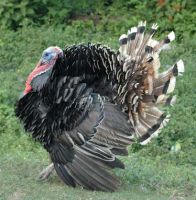 Turkey: Handy
38) Alphabetise your CD collection by artist...
39) Now by album...
40) And by genre...
41) Realise you only own five CDs. Alphabetise your Christmas presents instead.
42) Um....
43) Er....
44) Have a bath.
AND WHEN IT'S ALL OVER
45) Write apology note to auntie/best friend/worst enemy.
46) Write apology to the local church warden.
47) Attempt to remove suspicious stain that mysterious appeared behind the sofa on New Year's Day.
48) Spend the next three weeks eating nothing but leftovers because you just cant go and buy more when there's so much uneaten. Breadsticks dipped in stuffing for dinner again, darling?
49) Actually sit down this year and make some proper New Year's Resolutions, which realistically you'll never keep, but for half a day you'll dream about how much of a better person you're going to be in 2007.
50) Give in and go to the sales.
(Many thanks to Andy from Run Like Hell for help with a couple of suggestions)
Further links
Official site of the Scottish indie band
Official site of the ex-Million Dead solo artist