rock midgets home -> features -> articles
THE GREATEST FRONTMAN OF ALL TIME - The bands' verdict!
Your favourite bands on their favourite frontmen
Outside of post-rock, the frontman is the most important part of a band. However important the guitarist may think his solos are, however necessary a rhythm section may be to keep in time, however many inappropriate jazz chords the pianist may try to work in, the singer is the focal point of just about all the great bands. But who is the greatest frontman of all time, and why?
So now you've read what we think, we thought we'd ask some of our favourite frontmen and bandmembers who they think makes the grade.
Click HERE to read PART ONE of our Greatest Frontman Of All Time feature.
Click HERE to enter our competition to win copies of the new FREDDIE MERCURY anniversary releases
---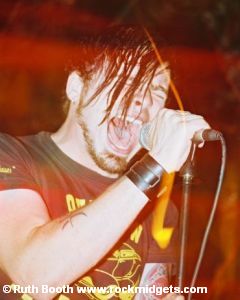 Keith Wilson, Movies With Heroes
(by Ruth Booth)
"[If] I have to choose just one (my second stringers would be Eddie Vedder and Mick Jagger) I have to go with the obvious Bono [U2]. I admit he is a hero of mine. He isn't terribly good looking or athletic on stage, but he just owns every inch of it with such ease and confidence. He has this wierd way of making every one of the thousands present feel like he wants to be their friend. I like how he can seamlessly switch from humorous self-deprecation to revolutionary. He lets just enough of the "regular human being" Bono shine through to keep the audience close, but puts on enough of the "larger than life Bono" to make the show give you chills.
"Finest moment? That is a tough one. I would have to say his recent boldness in meeting with and challenging world leaders, while openly admitting that he is a "spoiled rock star," to do the right thing where poverty, justice, AIDS, etc. are concerned. I know there are plenty of people who suspect attention-grabbing pretention, but I have seen and read enough to believe that he simply sees it as responsibility. If you believe that things in the world should be changed, and your music and personality have won you the ear of millions, isn't it your responsibility to use your platform?"
Movies With Heroes' album Nothing Here Is Perfect is out now on CI Records. For more info, check out www.movieswithheroes.com.
---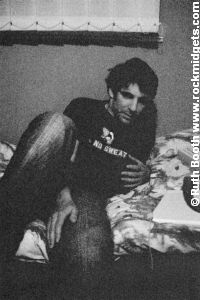 Jonah Matranga
(by Ruth Booth)
"Usually I'm pretty old-school with this stuff, I think the classics are the classics for a reason outside of nostalgia. Usually, they really were THAT good. In that light, it's hard to not talk about Elvis and James Brown. Seeing footage of them is still electric, decades removed; much more exciting than the vast majority of rock bands since. Moving forward, anyone that hasn't seen Prince live shouldn't be able to write about this subject. Bono falls in that timeless astonishing category as well.
"All that said, though, the frontman that I've seen do the most damage at a show, just completely rip the place apart whether anyone knows him or not, is Zack [de la Rocha, Rage Against The Machine]. Saw them open for Pearl Jam way before the first record came out, and he completely changed my idea of what it was to be a frontman. Over the years, he kept being great. More than great.
"Honorable mention to Angelo Moore from Fishbone, he was really something in their prime as well."
CD/DVD package There's A Lot In Here is out now on Equal Vision, and Jonah's split 12" EP with Frank Turner, is out now on Welcome Home Records. For more info, check out www.jonahmatranga.com.
---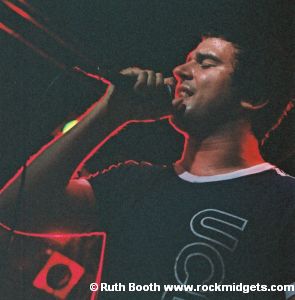 Max Bemis, Say Anything
(by Ruth Booth)
"In terms of people I emulate probably I'd say Freddie Mercury is up there, in terms of like live performance, in his voice; but of all time I'd say Chris Conly from Saves The Day. They're my favourite band ever, and they really for me always took something really personal, and then seomething really big, and over-the-top rock sounding, and put together - because I was always a fan of Queen and huge stadium rock - creating huge anthems, and then he took something really real and gritty, which is like the hardcore... and they were the first band I ever heard like that. They weren't the only band doing it at the time, but I still think they did it the best, and do it the best, and they were the first I ever heard."
(Taken from our forthcoming Say Anything feature...)
Debut album ...Is A Real Boy has just been released in the UK. For more info, check out www.sayanything.com.
---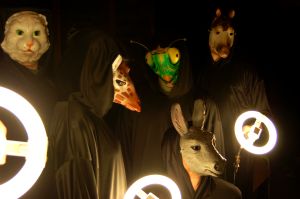 Rich Balling, The Sound of Animals Fighting
"This question brings to mind the usual suspects: Iggy Pop, Mick Jagger, Axl, Robert Plant, Ian Curtis, Ian Astbury, Robert Smith, and even the first time I saw Thurday play... but my favorite frontman in recent years has been Gavin Hayes of Dredg. When they play live, from the first song of the set to the last, he is in a trance. He sincerely feels the music and that is very evident. I have also never heard him hit a wrong note."
Lover, The Lord Has Left Us the latest album from The Sound Of Animals Fighting, is out now on Equal Vision. For more info, check out www.thesoundofanimalsfighting.com.
---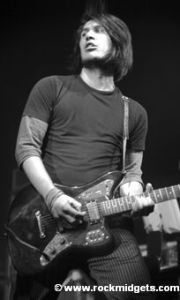 Barry McKenna, Think:fire
(by Mark Greenbaum)
"I would say the frontman of all time - no offence Bruce, but it's not going to be you! Billy Corgan, I think he's an absolute musical genius. The fact he's never had a music lesson in his entire life, and he taught himself a range of instruments, and the guy's just so talented. It's either him, or possibly Robert Plant, from [Led] Zeppelin is just incredible, incredible.
"But I would say that for me, the frontman of all time, despite those two being so great, would have to be Jeff Buckley. I know that he was a solo artist - he signed to Sony as a solo artist, that's how he started out - but when he was touring he had a band and he had Michael Tye and all that on guitar, and I just think the guy exuded everything a frontman should have. He had charisma, he had the good looks, he had the stage presence...but his lyrics especially and just the voice that he had was incredible. I mean everyone who saw Jeff Buckley live was absolutely touched by his utter genius. The guy was just incredible. So for me his voice alone makes him the best frontman of all time. Definitely."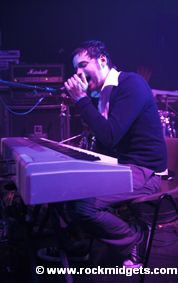 Bruce Mackenzie, Think:fire
(by Mark Greenbaum)
"My favourite frontman of all time... My contenders are between Billy Corgan from the Smashing Pumpkins, Brandon Boyd from Incubus and... I think Chino Moreno's pretty sound as well, from Deftones. I'm going to contemplate this one for a while... [Five Minutes Later] I have to say, Jeff Buckley was stunning.
"I think I'd probably go for Billy Corgan, mainly for the fact that it was him that solely changed my views on music. I grew up in a really, really small place called Montrose, and basically everybody was like sheep. Everyone would follow the same subcultures, and everyone was into the same genre. If you liked something else, [you were] really really weird. I moved out of there when I was 15, 16, and I went to college, and that was when someone introduced me to the Smashing Pumpkins - it was actually Barry Lee our other guitarist - and I took home Siamese Dream. I find it very hard to find an interesting lyric these days [from other artists], but [Billy's lyrics] are interesting but very smart.
"I know a lot of people who hate the Smashing Pumpkins solely because of his voice, but I think his voice is so captivating. You get loads of frontmen that are a lot about the banter, and that's always good, but he's never really beeen about [that]. You watched him and you believed all he was there to do was play songs, get across what he was thinking, and there was no bullshit. It was just 'this is what I like and I hope you like it too'.
"I just thought he was really magnificent to watch, great lyricist, brilliant voice... Good player as well. I got to catch them one time, and when we were picking our jackets up from the cloakroom, I managed to touch him. This was quite a high moment in my life!"
Barry: "Where did you touch him?" [laughs]
Bruce: "Well, the other members came through five minutes before this, and I was like "oh man, I wish I'd got to see Billy" because I totally loved the guy. And he came out five minutes later with about seven bouncers around him. He was so tall, and he was wearing this Russian jacket, and I touched him. I was totally tongue-tied, and all I could muster was '...whoah...' He must have thought 'who the hell is this wee dick?'" [laughs]
The first demo from Think:fire is out now, with more recordings in the pipeline. To check out tunes from the demo and more recent recordings, head to www.myspace.com/thinkfire.
---
Click HERE to read PART ONE of our Greatest Frontman Of All Time feature.
Click HERE to enter our competition to win copies of the new FREDDIE MERCURY anniversary releases