rock midgets home -> features -> articles
CARLING WEEKEND 2006 - The Leeds Review
In Part Two Ruth Midget checks out the rest of the action on the smaller stages...
Left: Forward Russia (Friday)
Photo by Gary Wolstenholme
Another year, another Carling Weekender; and in the absence of this year's Glastonbury, Reading and Leeds this year became hot tickets for the more eclectic rocker, with the likes of Muse, The Raconteurs, and Pearl Jam all signing up to headline tents. Last year's Unsigned Tent returned to Leeds again, and this year also saw the Lockup Stage expand to two nights of the weekend - heaven for the punks and the hardcore kids alike. As per, Rock Midgets.com headed along to sample the heavier flavours of the weekend.
In Part Two Ruth Midget headed along to the Leeds Festival site to sample the delights of the smaller stages, plus our pick of the unsigned bands.
To read our report from Reading Festival, CLICK HERE.
To read our article on the Leeds Riots and the Love Not Riots campaign, CLICK HERE.
---
Thursday
One of the main advantages of coming to Leeds in the last few years has been the Thursday night entertainment in the Comedy & Cabaret Tent. Not, thankfully for the compere, some poor lass obviously hand-picked at the last minute to handle the weekend's MC duties on here.
It's obvious what ex-Million Dead bassist Julia Ruzicka makes of the introduction of her new outfit The Quiet Kill as "communist nu-metal", and later it'll sound like insult to injury as for the first few songs the echo on the vocals renders them near incomprehensible; we all know festival sound is supposed to be bad, but this is tantamount to sabotage. A scuzzy sonic jackhammer, this is not a prospect for the faint hearted. At their more conventional, they're gorgeous – take newie 'Cold Caller' - otherwise perhaps another two minutes in the oven to let the flavour of the new vocalist really take could do wonders.
"And now Shakiri!" Cue a chorus of boos from the by now almost packed out tent. "Yeah," continues the compere with almost comic timing. "You either love them or you hate them. Personally I love them."
I'm not sure how appreciative Enter Shikari will be of that love, sincere as it sounds. Yet they've got to be feeling the love from the front - there's kids scrambling up the scaffolding to get a clear view (and natch, the drummer will be joining them in mounting the scaffold at the side of the stage later on). On paper marrying melodic hardcore and happy hardcore seems the most ludicrous suggestion ever, but in reality it's genius. Think about it – the euphoria of a triumphant techno bridge with emocore's rousing choruses, turning the likes of 'Mothership' into almost Muse scale monsters. Now all that remains is to see how it works on record.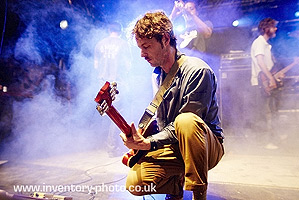 Broken Social Scene - a glorious send-off
Photo by Gary Wolstenholme
It's a bit of a let down when waves of kids depart before SikTh have even got onstage; especially considering how worthwhile Death Of A Dead Day made that wait. 'Wait For Something Wild' pummels the air, while the rousing chant of 'The Skies Of Millennium Night' couldn't work better if the roof of the tent suddenly flew away. If only the crowd had stayed for this otherwise storming end – hopefully not a sign of things to come.
---
Friday
The heavy stuff on the Main Stage today bagsied by the Reading crew, the Rock Midgets Leeds posse were left to check out what the other stages had to offer. First up, the Dance Tent (No, wait! Come back!) where Shit Disco turn the funky guitar and dance beats of 'I Know Kung Fu' into a riotous manic dancing fest for those of us who lack the coordination to dance alongside the cool kids.
Forward Russia score points for being the first band on the NME Stage to inject some genuine balls into the proceedings. Their adrenalin rock'n'roll recalls the Blood Brothers without the hardcore and Ritalin abuse, Tom writhes across the stage like he's got a serious case of house fleas. It's even more striking when followed up with Dresden Dolls and their kooky precision burlesque, the wry 'Coin-Operated Boy' operated with deceptively theatrical flair.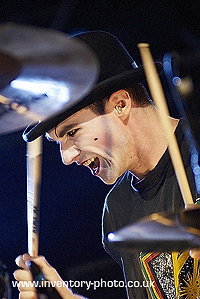 Dresden Dolls - more thna just a rock show
Photo by Gary Wolstenholme
Back to the Dance Tent, and eschewing the usual Charvers Vs. Moshers rivalry (To those outside the UK, think Jocks and Metallers – Ed.), Lady Sovereign proves she doesn't need some Big Brother-bothering band to kick out a cracking live version of '9-5'. And rounding off the afternoon back in the NME tent, Hope Of The States pair tetchy violins and groin-rumbling bass into a storming version of 'Get Ready' on this one of their last ever dates before they split.
Time to catch the first of our Leeds and Reading Preview picks from the Topman Unsigned Stage, Four Day Hombre, and there seems to be a sense of tension in the air... "This has been released as a single 35 times and it's still done f**k all. I blame the media." Before RM buggers off altogether, it's worth mentioning whoever's fault it is, it can't be the music: Four Day Hombre have a tendency to create soft delicate numbers that suddenly explode into massive squalling masses at the end without any sense of forced aggression. It's something that's more than a bit special.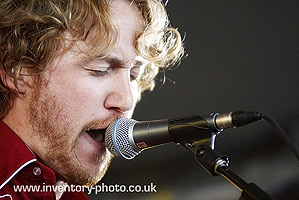 Four Day Hombre - lovely
Photo by Gary Wolstenholme
By now you would be expecting the joke to be wearing a little thin, but Goldie Lookin Chain pack the tent to bursting point for a set that pays homage to 2Unlimited and White Stripes; the latter in a re-working of the lyrics to 'My Doorbell' that says what Jack White was probably really thinking ("I've been thinking 'bout your missus, I really wanna do 'er..."). Compared with last year's muted performance on the main stage, it's safe as fuck.
With a temporary hiatus in the offing this winter, it's a small yet rabid crowd that's gathered for Broken Social Scene. Yet somehow it only makes the Canadian indie supergroup's sweet shimmering guitar rock all the more poignant; the ambiguity of the huge proggy wave of brass sound that announces their arrival, strangely fitting.
From cult legends to fresh up-and-comers; Snowfight In The City Centre deal in triumphant sparkling epic indie with harmonies layered over. Combine this with a vocalist with a talent for finding every single audience member in the crowd at least once, and you're left with a band whose youth really does belie their ability. RM has got goosepimples all over – it's not something that will happen again all weekend.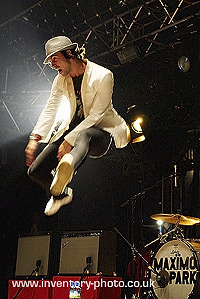 Maximo Park - bonny lads
Photo by Gary Wolstenholme
There's a certain pride for this Geordie writer in seeing Maxοmo Park pull off a headlining slot with such aplomb. While Paul Smith may be prone to overlong song intros bordering on the pretentious, musically they're as sharp as the lapels on Smith's white blazer. 'The Night I Lost My Head' is a simple and effective exercise in restraint, while 'The Coast Is Always Changing''s thundering beat judders through the crowd like a pneumatic drill. At the end of it, though, the perfect climax is all about one song. The memory of tens of thousands singing along to 'Apply Some Pressure' surely must rank alongside this tent's finest moments.
---
Saturday
It's a day of legendary goodbye's and quintessential rock'n'roll today. However, it's a gentle start in the Comedy & Cabaret tent with Seal Cub Clubbing Club who tease out quiet melancholy with the kind of shimmering, tortured choirboy vocals that could make Ned Flanders depressed. And then brains for afters – Send More Paramedics make a blood spattered impact on the Lockup Stage, 'Zombie Crew' sending the early risers into a bloodlust frenzy of moshing.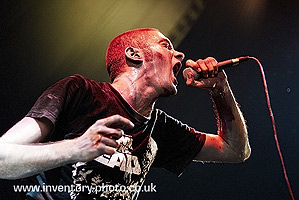 Send More Paramedics - more victims for the zombie crew
Photo by Gary Wolstenholme
"We hate this bulls**t, and they f**king hate you!" Sticking with the Lockup Stage, Municipal Waste are determined to incite war between security and the kids with their adrenalin thrash. Legendary British punks Lightyear, on the other hand, are simply using their last ever show to, well, get naked and do Simpsons skits. Bonus points for invading Body Count with a pantomime horse and telling Dashboard Confessional to "shut up, you whingeing emo tit"; even more for reminding us why we'll miss them when they're gone.
The late running of today's NME stage is working out well for The Long Blondes, their girly dance punk and sultry vocals making sure Gogol Bordello's fans stay put a little while longer. The aptly labelled "gypsy punks" themselves seem determined to start their own Romanian party in the NME tent, their insidious folk rock wheedling its way into your shoes.
Over at the Carling Stage, Get Cape Wear Cape Fly has the tent so packed, it's not worth even trying to get inside. Conversely, Dirtblonde on the Topman Unsigned Stage are far more divisive, attracting looks of adoration or disgust from passers-by with their scuzzy rock'n'roll. Arrogant (one fan offering them a CD is knocked back with the words "I don't want it if I'm not on it"), bolshy, rough around more than just the edges, it's the second most rock'n'roll thing to hit Leeds today. And here comes the follow up...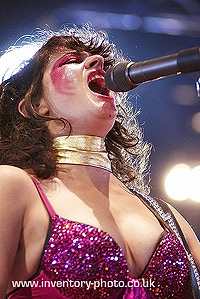 Peaches - iconic
Photo by Gary Wolstenholme
Peaches provides the most classically iconic performance of the day, pumping out the sexiest rock'n'roll on the planet, it climaxes with some of the most iconic crowd surfing ever, Peaches borne up by the crowd, then collapsing Flashdance-esque into the masses. Bouncing Souls effortlessly run through their BMX punk anthems on the Lockup Stage, but there seems to be something holding them back today. Back to the Topman Unsigned stage and it seems to have The Somatics too - gorgeous floaty vocals and classic rock riffs that belong to a more (allegedly) innocent age that really require the right mind frame, and perhaps a nice slot at Glastonbury rather than Leeds. Meanwhile The Secret Machines couldn't make a huger noise if they tried, oozing out huge trippy rock, the soundtrack of a million spaceships descending.
Legendary performance of the afternoon number two for the Lockup Stage comes in the form of Hundred Reasons' last ever show with guitarist Paul Townsend. It's yet another classic H*R set; 'Broken Hands' rattles along with it's usual live frenzy, while 'Falter' the rough diamond soothing anthem. The usual brotherly jibing aside, as the packed tent fills with chants of "Paul! Paul!", you can't imagine many better send-offs.
The Vines' star may have fallen dramatically in the past, and never quite risen back to its former heights, but they're still as riotous as ever onstage, 'Gross Out''s messy assault a live monster. Squint and you can still make out the ghost of those early Nirvana comparisons. Back to the Comedy & Cabaret Stage, and Manc punks Failsafe have drawn a startlingly large crowd considering their clash with Thursday in the Lockup Tent; even the mellower yet triumphant 'Cut To The Chase', with its middle 8 exercise in self-control, holds the crowd in position for a full half hour as the band rip up the stage. That'll teach the organisers to hide them away.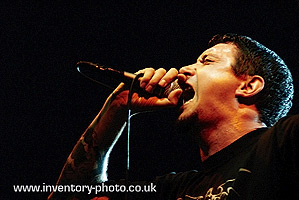 SOIA - here's to another twenty years
Photo by Gary Wolstenholme
There's just time to catch a few minutes of Twilight Singers on the Carling Stage – or more specifically, Twilight Singers plus Mark Lanegan, who alongside Henry Rollins remains one of the few people in rock who can inspire respect without moving a muscle. Lanegan's gravel tones provide perfect compliment to the mellower expansive side of Greg Dulli's outfit. Primal Scream provide this evening's dose of eclectica, melding country, dance rock and soulful grooves on the NME stage. However, this year marks Sick Of It All's 20th anniversary, and there's no better occasion than a weary festival crowd for checking out how they got this far. Lockup Stage veterans in more ways than one, they tear through a mix of old and nu-skool numbers, the likes of the rousing 'Built To Last' dealing suckerpunches to Bobby Gillespie's crew next door. No wonder they're still going long after all the other stages have finished for the evening.
---
Sunday
Sunday sees a little disruption in proceedings, with Sonic Boom Six bumping the rest of the Lockup stage bill up after Paramore dropped out; and thank God they did. SBS kick off the morning by laying down some ska-fueled punk with a rap side order that kicks Hayley William's crew right off the face of the Earth.
Those who like a gentler start to their day are over on the NME stage where the huge beat stoner rock of Giant Drag fares just as well; if only for Annie Hardy's disturbing little old lady in a little girl's body schtick, and some rather interesting X-rated advice on what to do instead of rioting at Leeds. As if things weren't dark enough by this point, Plan B take you right into the abyss, fusing acoustic storytelling with turntables and rock to create bleak urban fairytales. It's stunning stuff, but by the end it's completely ruined my day.
Slick to the point where you're just willing them to do it standing on their heads, Captain Everything continue in their quest to cram as many punk rock songs into one set as possible. Following them on the Lockup, something a little easier to move to in the form of the huge bouncing ska funk energy of Adequate Seven, closing with the storming chorus of 'Splitting Up'. Unfortunately, just after Leeds, they announce they're doing just that. But back in the blissful Sunday ignorance, the barbed ska-core of Capdown shakes the last of the early risers awake by the balls.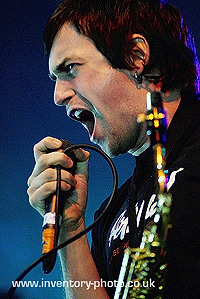 Capdown - riotous as ever
Photo by Gary Wolstenholme
Back on the NME stage, Milburn prove sometimes industry hype is simply that… then Be Your Own Pet completely reverse that, 'Adventurers' a joyous stomp for anyone with any last reserves of energy from the long weekend.
Only one Topman Unsigned pick today; Ever Since The Lake Caught Fire, whose output bounces from epic-tinged noise ('Escape From The Sun') to indie dance pop anthems such as 'Alex In Danger' – sometimes wavering between the two in a single song. Contemplative and evisceral at the same time, even at their youth and relative inexperience their potential is frightening.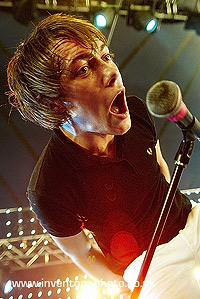 The Automatic - pop never felt so good
Photo by Gary Wolstenholme
What follows is less of a surprise. Welsh wonders The Automatic deliver a predictably brilliant barrage of keyboard tinged pop-rock, from the glorious chorus of 'Raoul' to funky closer 'Monsters'; and beyond, with a version of Kanye West's Gold Digger complete with brass section and insane keyboardist Pennie on flute. The same description can't be levelled at Hawthorne Heights today, though as the set wears on there's increasing flickers of something that puts them above the also-rans. Whether the hype is just another flash in the pan remains to be seen. Conversely, it's never been clear how Millencolin have failed the crack into wider chart consciousness. Bolstering up the lockup stage bill, 'Shut You Out' burns with regret, and years on the anthemic 'No Cigar' is still a vital reagent of mosh pit action.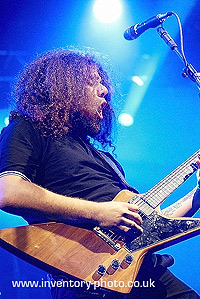 Coheed and Cambria - even the weather can't resist them
Photo by Gary Wolstenholme
It's debatable whether seeing Coheed and Cambria without the presence of mind-altering chemicals is really getting the full experience, but as the skies darken above Leeds, watching the lights play across the ceiling to their progressive post-pop rock is enough of a trip for anyone. The huge downpour that erupts during 'Welcome Home' couldn't be better choreographed – though those directly under the two holes in the tent would probably disagree. Fate isn't done with them yet, though. With Jack White and Brendan Benson at the helm, it's something of a downer to discover two of the most lauded singer-songwriters of our generation could come up with something that live feels so, well, ordinary. The Raconteurs seem concerned with making this a collaborative effort between the two vocalists, they forgot to think what the music needed. Liberally sprinkled with covers, there's an air of smugness that soaks through tonight's set, as if White and Benson are exchanging furtive knowing glances behind our backs.
And so on to something completely different. Crowning off Sunday at Leeds, ska punks Reel Big Fish, evidently conscious of their vital status at this year's festival, and probably equally aware the Lockup Stage is hanging on to their every word. There is no better way to finish off a festival - whether the love of your life has told you it isn't working out ('She Has A Girlfriend Now'), or is with someone else ('I Want Your Girlfriend To Be My Girlfriend') or your favourite band's main stage performance sucked ('Sellout') – RBF somehow make it all seem right. As the water piles up in the overhang of the tent roof, after three days of sunshine at Leeds, that long last night trudge back to the tent is suddenly not so bad after all. See you next year!
To read our report from Reading Festival, CLICK HERE.
To read our article on the Leeds Riots and the Love Not Riots campaign, CLICK HERE.
Further links
Official site of the Mean Fiddler Festival