rock midgets home -> features -> articles
LEEDS FESTIVAL 2007: Rock Midgets Report
Ruth Midget on this year's festival, including Smashing Pumpkins, Kaiser Chiefs secret set, and more
Photo by Gary Wolstenholme
Like the back bookend of the Summer, the Carling Weekender: Reading and Leeds festivals mark the end of the rock fan's Summer festival calender. Whether celebrating or commiserating over exam results, having that one last party before the new academic year, or simply making the most of the bank holiday, tens of thousands of revellers descended on the Leeds and Reading sites to see the end of the Summer off with a bang! With sets from Red Hot Chili Peppers, the return of The Smashing Pumpkins, Jimmy Eat World, and more, this year had a corking line-up, and naturally Ruth Midget and Gary Wolstenholme couldn't resist scooting down for the weekend.
---
Thursday
The party always starts early at Leeds Festival, and this year is no exception, offering the punters a choice between antics on the Alternative Stage, and this year a night hosted by indie label Dance To The Radio on the Unsigned Stage. It's the former that begins our evening, with indie electro tykes Youthmovies deserving some credit for at least trying something different in soundtracking a Fugazi live video; though perhaps a more appropriate visual might have been the sun setting over the revellers outside; either way, it's a refreshingly atmospheric and surprisingly Pelican-like performance.
Elsewhere Shut Your Eyes And You'll Burst Into Flame on the bound out like the bastard offspring of Jake Capdown and The Blood Brothers doing indie dance. Staying with the Unsigned Stage, it's time for Dance To The Radio label heads Forward Russia, in many ways one of the bands unacknowledged yet responsible for the rise of that same side of the genre, to show what was so alluring about the style in the first place. Despite their own admittance it's been a while since they last played together, the raw passion they throw into it is irresistable, and a far cry from the po-faced cool the sound seems to have attracted since.
Closing our evening on the Alternative Stage is supergroup collective Dream Of An Opium Eater, the band originally formed for Roskilde festival. Featuring Julia Ruzicka (ex-Million Dead), Ben Calvert (Killing Joke), Ivar S. Peersen (Enslaved), Reuben Gotto (Twin Zero / Johnny Truant), and coming across as a hybrid of My Vitriol, Tool, and a slight hint of Southern rock to taste, their stoner rock instrumental has a quasi-nightmare-ish, between sleep-and-awake feel to it; the Scandanavian short horror films playing alongside take on a whole new disturbing level.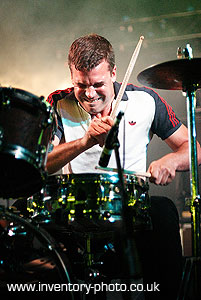 Battles: Beginning to regret that fifth cheeseburger
Photo by Gary Wolstenholme
Friday
The Ghost Of A Thousand are bringing down the Lock Up Tent already with their frantic discordant punk, while things kick off on the Main Stage with the soulful pop groove meets hip hop - with a dash of emo - of Gym Class Heroes. With tunes nicked from your favourite cheesy seventies hits, and laid back rhymes, they ease the day in nicely - though that's not to say they don't put themselves wholeheartedly into what they do. Or at least plaster casts of themselves, as Travis McCoy doles out as cast of "little Travis" made by the legendary Cynthia Plastcaster to one lucky member of the audience. Hellogoodbye don't need such symbols of devotion, however, treating the crowd to more soulful, almost Muse-like new material, alongside the older (and still more popular) dance pop of 'You Are The One'. It's Sonic Boom Six who bring the more chilled dance vibe back to the Lock Up Tent, with their ska-ified punk ragga.
Sticking with the Lock Up Tent, Municipal Waste bring their compilation of 101 songs that include the word "thrash" in the title - and thrash they deliver, in huge pounding spadefuls. They're followed by Ignite, whose small but rabid crowd seem shortchanged by what seems to be a premature set ending for Zoli Teglas and co, but that only makes their melodic punk offerings all the sweeter. Billy Talent seem a little misplaced on the main stage when their old school punk would fit quite snuggly over on the Lockup Tent, though 'Try Honesty' gets a decent sized pit bouncing. It's tame alongside the incendiary 'Take It Away' by The Used, however, the manic figure of frontman Bert McCracken looking more and more like a psychotic Kurt Cobain by the day. On the other hand, it's Funeral For A Friend who can claim the first proper circle pit of the day, accompanying the old school post-hardcore of 'This Year's Most Open Heartbreak'. Whether this has more to do with their storming anthemic rock, or their choice of matching 'Never Mind Reading, Here's Leeds' shirts, we couldn't possibly comment.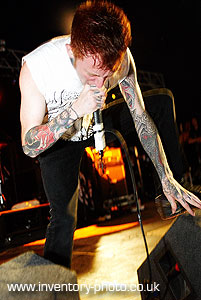 Gallows: Unfortunately had what Battles had
Photo by Gary Wolstenholme
No matter what your opinion of Fall Out Boy, you can't say they don't know how to put on a show. With cracking versions of 'The Takeover, The Break's Over' and 'This Ain't A Scene, It's An Arms Race'; guest spots from members of Gym Class Heroes and Municipal Waste; covers of 'Beat It', 'The Power Of Love' and hip hop hits; and even going as far as encouraging fans and non-fans to bottle them, few people could have walked away from that set saying there wasn't something for them. If they were aiming for the showmen of the day crown, though, Lostprophets put up some stiff competition, getting kids up onstage and even covering 'Blue Monday' as a segue into 'Last Summer'.
While NIN seem to be going through the motions for the first few minutes of their set, back on the Lock Up Tent, Gallows are on fire, burning blistering pure passion in body and sound as they deal out their relentless hardcore assault. By the time we come back, the gloves are off. Clearly, by no stretch some significant debts are owed to Trent Reznor for Nine Inch Nails' impact on industrial and electronic music that still haven't been paid after all the acclaim they've been given. After a slow start, their live machine cranks up and starts churning out sweet dischordant noise, ranging from the almost unbearable and frustrating moments of instrumental abuse silhouetted in neon, to the triumphant 'Head Like A Hole', and a heartbreaking rendition of 'Hurt', Reznor backlit against a wall of stars. For sheer emotional highs and lows, NIN will be matched by few others this weekend, and quite rightly so.
Including, unfortunately, tonight's headliners. The Smashing Pumpkins have a hell of a lot riding on these dates, amongst their first in the UK since the band's reformation. And initially it seems little has changed. All the hits are out, from the twinkling simplicity of 'Today' to the bouncing 'Zero', all as glorious as they originally were. If you sort of squint a little, it's almost as if former bassist Melissa Auf der Maur and guitarist James Iha are both back with the band... but mainly because their replacements look pretty much identical to the members they've replaced. And this is how the whole set seems. For all the crowd-pleasers, performed perfectly yet somehow soullessly, there's the dull new material, seemingly churning out the same bland riffs intercut with marching bands and national anthems done to whale noises. It's Pumpkins-lite, all by numbers right down to Corgan's "grunge-kooky" attire. After the visceral rawness of NIN's empassioned set, no amount of ironic references to tea and black pudding can save the Pumpkins set from being something of a let-down.
Saturday
It's hard not to go all gooey when Saturday's main stage openers The Pipettes hit the stage, all cutesy dresses, synchronised dancing and sweet harmonies - utterly bland and perfect for the time of day when most people are still stuck in their tents. Little Man Tate in the meantime are desperately trying to "do a Fall Out Boy" and get the crowd to throw things at them, but since they seem to be confining their generic indie mumblings to a tiny space in the centre of the main stage, they're really too easy a target. Hell, even Geordie punks The Grit did better earlier on, their crowd participation racking up the weekend's record for the number of times the word "cunt" has been squeezed into one song. Instead, we're off for a quick trip to see Hooks For Hands, aka Kaiser Chiefs, blast out a 30 minute set of hits in the tiny Carling tent to an enraputured hometown crowd; a set that sees hundreds stuck outside the hastily erected barriers outside with only strains of 'I Predict A Riot' and 'Ruby', as well as constant shouts of "Yorkshire!", to keep them company.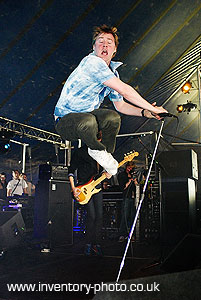 Kaiser Chiefs: Insert "handy" joke here
Photo by Gary Wolstenholme
Sparta seem something of an odd choice for the NME/Radio One stage, their brooding atmospheric rock blasting through the South-East garage banality. Back on the main stage, things have picked up. Gogol Bordello prove it is possible to crowd surf to accordion music backed by the percussive sounds of a fire bucket; the first band to bring some punk spirit to the larger stage. Meanwhile, Gossip prove that the age of larger than life divas has not faded into the past just yet, Beth Ditto's stunning vocals just as impressive amongst the mud and sweat as they are on record; no mean feat amongst today's pro-tools pampered female vocalists. The Brits are scoring equally as high in the Carling Tent, Frank Turner's full band set attracting nearly a full tent for his folk punk rock anthems.
"Anyone from Arizona?" Jimmy Eat World seem to feel every inch of their odd position in the line-up, but their placing on the main stage (ahead of tonight's headlining slot on the Lockup Stage) is recognition of something the States have known for years. While their faultless power pop is a little strangled through the main stage speakers, it's backed a punching heart that transforms 'The Middle', a simply tune that could so easily be a lifeless dirge, into a field-wide karaoke session. No wonder it's a beaming Jim Atkins who triumphantly high fives the front row at the end.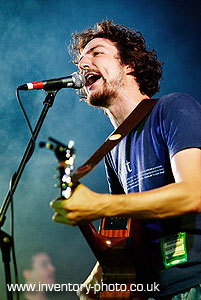 Frank Turner: A consummate professional, Turner played on as the ghost of a small child menacingly approached his guitar
Photo by Gary Wolstenholme
"You know when you're hungover and you've made a decision..." and with that, Paul Smith apologetically removes the flashy white jacket he's been wearing over his all-black outfit, before leaping yet another frantic dancing session for recent single 'My Velocity'. It's Maximo Park all over; Smith may still have his bowler hat, but their status as stylistic indie darlings doesn't stop him dancing like an agitated chicken while keyboardist Lukas Wooller climbs all over his keyboard; a refreshing lack of pretension in an uptight genre. Meanwhile on the Lock Up Tent, it's a sad day as tent staples and skacore legends Capdown play their last ever Leeds Festival set, metaphorically handing over the baton to The King Blues with a dedication of a blinding version of 'The New Revolutionaries'.
Rather that just revelling in their contradictions, Interpol use them to their advantage. Dressed scruffily compared to his immaculately suited bandmates, Paul Banks gruff vocals are the marmite to his bandmates' butter smooth sonic output on record, but live the combination of scarred voice and tender guitar subtlety works like a charm, serenading the early evening sun as it heads towards the trees.
The youth of Kings Of Leon has always belied old heads on young shoulders; so much so, it's almost shocking that they've come so far so early. The broken gruffness of Caleb Followill's vocals live speaks of times few could relate to, yet their hip-swinging southern grooves have an allure that's universal, whether it's the funky rabble-rousing 'Molly's Chambers' or measured unlikely crowd-pleaser 'On Call'. It's a rather more unsettling set back on the NME stage, though, as Brand New tease out their dark emotional rock. While the sharpness of 'Sic Transit Gloria... Glory Fades' is tempered by the crowd singalong, 'Jesus Christ' is chilling as it rings through the dark cold, ethereal light of the tent. As the repeated words "we were Brand New" flood out over the speakers, there's a sense of something profounding disturbing in such a raw bleed of emotion. The eyeliner cliques have nothing on this.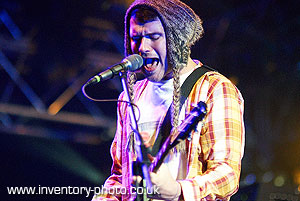 Brand New: Chilling (involvement of ghosts of small children not yet confirmed)
Photo by Gary Wolstenholme
Unfortunately, whatever their secret is, Razorlight have yet to uncover it. Oh yes, fans of Johnny and the big white hype machine rejoice, for the kings of British garage rock, aka most indie output for the last two or three years, have returned to Leeds and Reading, and you can expect a similar set to every one they've done for the last few years. Yes, there'll be that triumph of Borrell's rhyming dictionary 'America' and the prescient 'In The Morning'. And what's this? Surprise surprise, Borrell has removed his top, the official sign that the soulful part of the evening has begun, and we can all bask in his cod gospel side, which must be accompanied by his scrawny frame squeezed into a pair of white skintight trousers, and much running about the stage. No thank you.
Instead it's off to The Lock Up Tent for Jimmy Eat World's second set of the day, and one thats a hundred times more relaxed. Under tarpaulin and up close and personal, in the intimate darkness with hundreds of strangers, the band's lesser known (at least in the UK) power pop masterpieces, such as the magnificent 'For Me This Is Heaven', and the epic 'Goodnight Sky Harbour' are like warm blankets against the evening.
Sunday
After hard rock day and indie, Sunday's hangover finds itself under assault from "however-many-genres-we-could-squeeze-in" day - or to start off with, Paramore, pumping out pop punk gems (plus a few At The Drive-In lyrics thrown in for good measure) for a small yet vocal section of the crowd clearly too young to have truly overdone it last night. Their placing below relative chart newcomers The Dead 60's is something of a mysery, though the older Liverpudlians have technically been peddling their post-psychadelic, post-The La's pop for a few years longer. The smart punters however are catching the splintered Pixies'n'folk of indie supergroup Brakes, the spikey pop rock of Derbyshire's young pups LostAlone, or South Wales pop heirs Kids In Glass Houses. The latter have landed an odd day to be playing, though they're a refreshing break; their live groove an spark hints at a sincerity still missing from their main stage emo counterparts.
On the main stage, the first band today to truly get your panties wet over comes with the arrival of the Eagles Of Death Metal, who rather sweetly seem stunned that anyone even turned out to see them, let alone that its such a raptuous response that greets their good ol' fashioned, bad taste, scuzzier'n' a biker's three week old grundies rock'n'roll. From playing the crowd noise with their hands to slamming a knife down in the amp in-between songs, they pull every cliché out of the book, give it a quick twist and a once over, and pull it back again. "The best set rock'n'roll has ever seen"? Damn, that was close to it.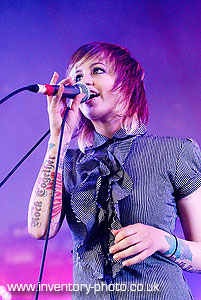 Shiny Toy Guns: too pretty to be attacked by ghosts of small children
Photo by Gary Wolstenholme
After that, The Shins more mellow stylings pass by like background music. No, it's Angels And Airwaves who are the much intriguing proposition, the more serious project from Tom 'Blink 182' DeLonge. For those of us who've been waiting for two years for Tom DeLonge to peer out from behind that po-faced video perma-mask and shout "psych!", seeing AvA on the main stage is an odd experience. But for "your mom" jokes fans, there's partial relief at least; DeLonge will make a heartfelt plea to his audience that he's still the same guy, and then spend the rest of the set making cracks about his reading ability, how awesome his band are, and the idea they have self-help tapes playing during the set - the latter possibly the most believable, given the uplifting nature of the average AvA (as they like to be initialed) set. However, that doesn't stop the fact that Angels And Airwaves' epic unifying rock has still to find its own place it the world, ascending a little too far too fast to stadium status right now to sound like anything less than hollow substandard U2. Good hollow substandard U2, though.
Back at the Carling stage, Shiny Toy Guns are making a second dance tent, 'Le Disko''s funky dance and keyboard squeals crossing the border between rock club and trance disco. Meanwhile, Bloc Party mark the last of the Brit contribution to the main stage this weekend, and to their credit, they hold their own, a workman-like rendition of 'The Prayer' shifting feet... but little else. Yes, that group bow at the end was deserved, but if this is the best that Britain can come up with, it's something of an anticlimax. Even the less conventionally "rock" Arcade Fire manage to muster more passion; the velvet curtain, projector screens and organ say understated music hall, the battered percussion say pure rock'n'roll. Yet for all this abandon, it's remarkable how uncluttered their ethereal sound comes out on recent single 'Keep The Car Running'.
Hemmed in by amps, monitors, and even their own equipment, the four members of New York experimental electro rock band Battles bounce around in their own little world, a bizarre mix of concentration and quasi-orgasmic fulfilment warping their drummer's face as the mighty 'Atlas' stomps out of the speakers. Onstage with barely enough time to sort out their gear, let alone tune up, their squelching "art noise" suffers and benefits from technical flux, pulling a jerking crowd about the tent like hyperactive bunny rabbits; truly the most original and uncompromising act of the weekend. "Thank you. For our next song, we are going to pack up onstage." And so they do.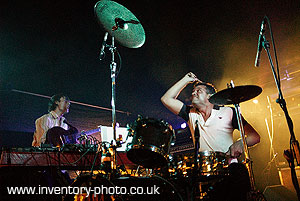 Battles: Or maybe it was the drummer all along...?
Photo by Gary Wolstenholme
However Red Hot Chili Peppers don't fail to disappoint. Things begin anticlimactically enough, with a ten minute jam from the band's instrumental core, and slowly go downhill from there. 'Dani California' feels limp and sluggish, 'Otherside' drags. Kiedis for the second night in a row mixes up the lyrics, this time to 'By The Way', and when he's not stood stock still, his dancing to an otherwise haunting 'Don't Forget Me' seems almost desperate. The only bit of the evening that arouses some passion which doesn't reek of artistic self-indulgence is a classic 'Give It Away', a set staple they've been churning out for over fifteen years. And whoever decided to not only let Frusciante have free reign at the start, but at the END of the set as well is either an evil genius or has some secret vendetta against newly formed event organisers Festival Republic. Kiedis' final words "thanks for sticking around, thanks for being there for us" aren't nearly sincere enough to compensate for it. A disappointing end to a frankly mixed weekend - and sadly one that seems almost fitting.