rock midgets home -> features -> articles
DOWNLOAD 2009 - The RM Report
Faith No More, Steel Panther, Pulled Apart By Horses, Dursto and more...
Photo by Shirlaine Forrest
Oh yes, Download 2009 was the year modern metal at Donnington came of age. Faith No More, Def Leppard, The Blackout and a swarm of bees more made this a historic year in more ways than one. Check out our coverage of this year's festival, with our RM ROUNDUP, THE GALLERY from across the site, INTERVIEWS with The Blackout, Dir en grey and more. And finally, because we're too lazy to bring you a full festival review (what? you got all our Twitter updates all weekend, stop being greedy), instead we've got our comprehensive Download Festival 2009 - THE ROCK MIDGETS AWARDS. Check it all out at the links below...
DOWNLOAD 2009 - THE ROUNDUP
This year in brief.
DOWNLOAD 2009 - INTERVIEWS
The Blackout, Dir en grey, Twin Atlantic, Young Guns, Shinedown and Daniel P. Carter.
THE DOWNLOAD GALLERY
Photos from across the festival, including Enter Shikari, Steel Panther and more...
DOWNLOAD 2009 - THE AWARDS
The Best Dressed, the Legend of Legends, and more from this year's festival.
---
DOWNLOAD 2009 - THE ROUNDUP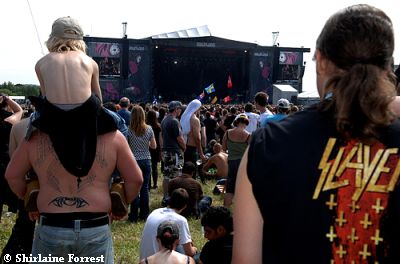 It'd take a sensationalist hack to say that Download Festival has been in some sort of crisis for the last few years. However, it has distinctly felt like the spirit of Donnington has been treading water in a mire of unfortunate circumstances and odd decisions. In practical terms, there was last year's change in site layout, following Donnington Racetrack's decision to introduce new tracks on the site of the old main stage, leading to punters moshing on asphalt (call me a pussy, US hardcore festival goers, but that does not sit well with me) and huge walks between stages and campsites. But more importantly, in past years, the organisers have somewhat misjudged their audience - see the disastrous indie day a few years ago, which resulted in a virtually empty Main Stage for bands like Feeder and My Chemical Romance, while the other tents were packed. Even last year's line-up went down like a lead balloon with many (one punter we knew left as soon as Kiss finished their set on the Friday). Metal's new kid on the festival block had a report card with "must try harder" written all over it, even before the recession kicked in.
From the first announcements, it was clear it wasn't going to be the case with Download 2009 - musicwise at least. However, if this year's line-up looked good on paper, it went down ten times better live. It was almost as if they'd designed it to cover the whole spectrum. The nineties/nu-metal nostalgia on Friday scooped those in their 20s; the classics on Sunday attracted older metal fans and those curious about their influences' influences; the smaller stages showed a keen finger on the pulse of the rock and indie underground (from The Blackout to Pulled Apart By Horses); and of course, there was all kinds of proper metal across the weekend. Going off past years, such splits would appear to be a wrong move - yet as we travelled across the site all weekend, what struck us was that while there was some obvious change in crowd makeup on different days, it wasn't quite as much as you'd expect - for the larger bands at least, where the kids and former kids mixed pretty well. "Fifteen, twenty years ago, this was about the proper old school rock bands. I came yesterday, and I was quite surprised by a couple of people - Slipknot, Dragonforce - I thought 'My God, they're really quite good'," said Fiona, 38, from Burton-On-Trent. She originally came for Def Leppard and ZZ Top.
There were "wish you were here" moments by the bucketload pretty much wherever you went across the weekend, from reformations and break-ups, new to buzz to actual buzz - at least as far as the second stage went, which suffered a bee infestation on Saturday - watching history being made and even breaking records yourself, with an attempt on the Guinness World Record for Largest Air Guitar Ensemble. This left very few of last year's long stretches where you could take yourself off for a few rounds and not miss anything. Even backstage, one of the most common comments made by bands and press alike was just how amazing this year's line-up was - just see our interviews for proof.
Not everything was perfect, mind. Campers still had a fair walk back to their campsite - however it wasn't as far as last year, and a lot of the veteran randomers we got talking to this weekend remarked on how much better that and the stage layout was in comparison.
Add to this some absolutely glorious weather - final proof that God is a metaller, judging by Glasto just a couple of weeks later ("It's as if God said 'ok, here's your weekend, now fuck off home'!" remarked John Probin at Download) - and Download 2009 was as relaxed as a metal festival could ever get. This year's Download will be memorable for a lot of reasons - reunions of the likes of Limp Bizkit and Faith No More, the return of Def Leppard, and a bazillion others we can't be arsed to recall - but most of all for being the Download festival where Probin and co. finally cracked it. This year will be the one all future Download Festivals will be compared to, and it'll take a hell of a lot for them to beat it.
Check out the rest of our Download 2009 coverage below...
---
DOWNLOAD 2009 - The Interviews
click here for the view from backstage, with The Blackout, Daniel P. Carter and more...
---
DOWNLOAD 2009 - THE GALLERY
Highlights from Download 2009
Def Leppard
Enter Shikari
Faith No More
Pulled Apart By Horses
Steel Panther
ZZ Top
Random shiz from Download 2009
---
DOWNLOAD 2009

THE ROCK MIDGETS AWARDS
Best Onstage Wear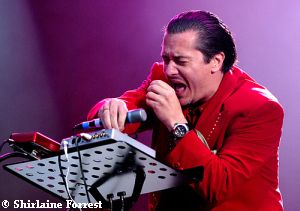 Tough competition this year, both from expected and unexpected sources. Killswitch Engage fell at the first hurdle, when the band's resident nutjob Adam D. thought that a leopardskin cloak would be sufficient (on that note, nice shirt, Howard Jones. I bet your Mum was proud.). Similarly, while Enter Shikari did make an effort with bassist Chris donning flippers, that's just not enough effort for us - and neither is your drummer dressing like he's watching the footie at home on a Saturday afternoon. Which leaves us with Steel Panther's full eighties get-up, Wes Borland's tribal gear, and Faith No More's Winter 2009 Moss Bros Collection. Borland loses points for failing to get his bandmates to follow suit, essentially leaving his contribution to be spread out between bandmembers - and even then Dursto would have had to lose the hat to wear that wig. While Steel Panther did look like an emo wet dream, they made the fatal mistake of appearing the same weekend of Motley Crue, who showed them how to do it with the biker twist. Originality aside, Faith No More's Mike Patton wins his crew extra points for actually colour co-ordinating his outfit with their stage set - a magnificent pair of sweeping red curtains. On that note, Faith No More also win Best Use Of The Stage (for the moment in 'Easy' when Patton wrapped himself in the curtains to sing), despite tough competition from Pulled Apart By Horses.
Winner: FAITH NO MORE
---
The Party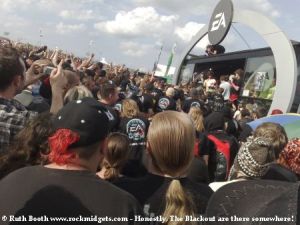 Given to whoever seems to be everywhere all weekend, this award was won before Saturday was half over, as The Blackout made their bid for not only the most sets of the weekend, but most public appearances. Aside from two onstage performances (their original slot on Friday on the Main Stage, plus a filler set for The Ghost Of A Thousand at the Red Bull tent on Saturday), the band recorded two acoustic sets for Radio 1, and appeared at the EA Hub for an attempt to break the Guinness world record for Largest Guitar Ensemble. And then there's the myriad times we spotted them around the festival, ligging backstage, and doing a tonne of press. If there was a party to be had, these boys were at it.
Winner: THE BLACKOUT
Click here for our Download festival interview with The Blackout.
---
Biggest Surprise Hit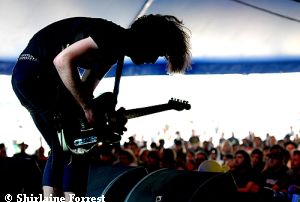 Sheer numbers would have you believe this would be
Steel Panther
, who seem to have been allocated their slot on the Tuborg by someone with as much grasp on scene hype as Artie Fufkin. But while this year's most unexpected triumph came from the same stage, it was the work of someone further down the bill - indeed, a band who most would consider to be outside the scope of Download bands. Of this, Pulled Apart By Horses were only too aware, telling security they were a metal band disguised as an indie band. They then proceeded to blow that disguise spectacularly, not only ripping the tent a new arsehole with vicious renditions of the likes of 'Meat Balloon', but climbing speaker stacks, playing half the set in the pit or the crowd, and, um, organising a group high five? Well, it was more exciting than Meshuggah, anyhow.
Winner: PULLED APART BY HORSES
---
Most Pussy Award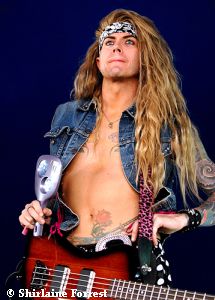 Given to the band who made the best attempt to seduce the audience. While we ladies were spoiled for choice this year, with Fred Durst, Coby Dick AND Chris Fehn from Slipknot making appearances, this year it was all about words more than actions. We appear to have lost the attention of a couple of bands this year; Motley Crue seemed more concerned with making the men feel at home, with lesbian porn footage and reassuring the men of their masculinity. Meanwhile, The Blackout's Sean Smith only seemed to have eyes for photographer Ashley Maile from Kerrang! after tattooing himself with marker for the occasion. Dan of DissolvedIN needed a little lesson on sensitivity - after yelling over his boner, and complaining that he "thought he'd see some boobs tonight", there's no guesses why the girls were uncommonly shy.
Again, Killswitch Engage pulled out all the stops, Howard Jones stating he liked his women "like sushi rolled on a barbershop floor", while Adam D expressed a wish to make love to all the women in the audience. How cute. However, the muse of poetry seemed to be giving all her attention to Steel Panther this year. Clear about their intentions (seemingly to bring heavy metal back to the UK and screw hot chicks), their romance knew no bounds, with lines like "If suddenly you were a guy, I'd be suddenly gay", and talking about how one girl was so hot, they wanted to do things to her boyfriend's cock. So when they left with the words "if you're a hot chick, come backstage so we can f**k you", I was sold. Well, after all, they did f**k my Mum in the eighties.
Winner: STEEL PANTHER
---
Best Heckle
Technically the wrong side of the stage, but one hack in the press tent had to win this year's award just for the timing. On hearing the sound of two big explosions from the main stage during Limp Bizkit, one photographer wondered aloud "do you think someone's cracked and shot him?"
Winner: RANDOM PHOTOGRAPHER
---
Best use of Drinking Paraphenalia
We're not talking about how many cups you took back to the recycling in exchange for money, or the most wacky beer bong you bought from the stalls (although keep us posted on that one). This goes to best use of what's left over after you finish your beer. This year didn't feature as obvious a target for bottles, so instead we've awarded this to the most creative use of beer detritus. While we did see the odd Strongbow Man in the traditional robot/black knight get-up, this year's award goes to the inventive sod who took a bunch of Tuborg cups, glued them together and made his very own Starship Enterprise to carry into the pit for Def Leppard. Sadly we have no photographic evidence of this, but we swear we hadn't taken anything. Honest. We also didn't see a tribble made out of sleeping bag stuffing. Or a green wooden Download Dog head being carried into Slipknot's pit (actually only one of these is made-up).
Winner: STARSHIP ENTERPRISE
---
Worst Casualty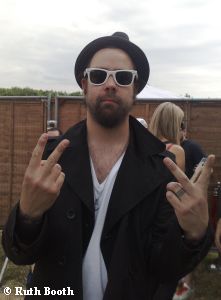 While Ali Ryland's vote went to Jay Styler, guitarist of Fei Comodo, for losing his lunch in front of fans following their Wall of Death, this year's award had to go to someone who managed to sustain their illness not just throughout the whole weekend, but until 4am on Tuesday morning. Daniel P. Carter, frontman for Hexes and of course the Radio 1 Rock Show, may have spent the weekend in a hotel while his bandmates made do with a tent ("They said 'think of us while you're in your hotel' - I said 'I will!'"), but karma caught up with him in the form of raging hayfever that lasted all weekend. There is a reason why he is wearing sunglasses in this photograph.
Winner: DANIEL P. CARTER
Click here for our Download festival interview with Daniel P. Carter.
---
Highest Number Of Crowd Deaths
John Petrucci from Dream Theater for killing the entirity of Download Festival with his opening notes of their set. He then reversed time by playing 4,692 billion notes per second, creating a rift in space time that revived the entire site with wiped memories. Then he killed the entire site again. This carried out for roughly two millenia before he got bored.
Winner: DREAM THEATER
---
Best Camping Tip
James from The Blackout, over to you... "I came up with an ingenious way of making a makeshift pillow this morning - after I slept this came into my head, but it's to get the bag that your sleeping bag comes in, stuff it with your soft clothes, do it up, makeshift pillow. I've patented that though, as of this morning. So if I ever see anyone who's actually made this into some sort of..." At this point we lost James to the Download Dog, who he spotted staring at some puppies, so whether he's actually patented this is as of yet unconfirmed.
Winner: JAMES FROM THE BLACKOUT
Click here for our Download festival interview with The Blackout.
---
Worst Ligger
Pixie Geldof may have had trouble getting in to the festival, but this year's worst ligger has to be Ryan Richards from Funeral For A Friend, who turned up for one day, saw some bands... and then headed off again. He obviously needs some tips from Sean Smith.
Winner: RYAN RICHARDS
---
Best Pit
Ever since Trivium created that huge number of circle pits a few years back on the main stage, bands have been trying to top them. This year, it was Devildriver's turn, for creating at least half a dozen pits, one of which stretched halfway across the stage. This is small fry for a band who I'm told hold a world record for this shiz, though.
Winner: DEVILDRIVER
---
Best Crowd Participation
Was it Slipknot, with their sit down/stand up thing? Was it Steel Panther with their singalongs? Nope, this year, the award goes to Fei Comodo, for creating a Wall of Death so brutal... well, we'll let you see for yourself (video credit - Ian Collins).
Winner: FEI COMODO
---
The Asylum Award for Weirdest Banter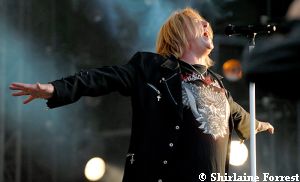 Mike Patton's constant "I better get ma cure!" had nothing on this year's banter. Maxim's repeated "where are you Download?" quips had us wondering whether The Prodigy's MC was starting to suffer from a bit of early onset senility. Elsewhere, our image of the excesses of Def Leppard's early years suffered a blow, when Joe Elliott was heard to exclaim ""Did you see that? A fucking aeroplane goes overhead! The weirdest thing I've ever seen!" Meanwhile, Sam McTrusty from Twin Atlantic caused a blip in an otherwise storming set, with "so, did anyone see the Pet Shop Boys" Yes, dear, we get it. Steel Panther predictably spun out some of the best banter of the weekend, but not really hitting the weird stakes. Sevendust do get the Gwynneth Paltrow Award for "we may be from across the pond, but music is universal". However, what really worried us was Matt Heafy, who came up with this one: "We're going to fucking explode together". Heafy, please lay off the hentai.
Winner: MATT HEAFY, TRIVIUM
---
Most Deluded
See above.
---
The Cover Award
Download Festival always means covers, as practically every band on the bill gets out a homage to their favourite acts, whether it's Motley Crue doing Hendrix, or The Blackout picking out some Limp Bizkit. Kudos to ZZ Top for getting in on the act by covering 'Jailhouse Rock'. However this year's most popular cover turned out to be a rather more recent choice - Lady Gaga's 'Poker Face'. Covered not once, but twice this weekend, by Faith No More AND You Me At Six, the Clockwork-Orange-Moloko-Statue-Made-Flesh obviously has had a bigger impact on the metal community than any of us realised. Next year, expect Lauren Harris to have gained fifty pounds in an attempt to emulate Beth Ditto.
Winner: LADY GAGA - POKER FACE
---
Weirdest Punter Best Punter Costume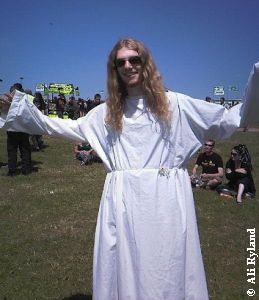 This year had some tough competition, from fully made-up Kiss fans and a pair of cows looking forward to spilling their milk over Limp Bizkit (is this why it's limp?), to our lord and saviour Jesus Christ - who apparently likes Faith No More. Go fig, eh? We did have a soft spot for the guy who wore a tribute beard to see ZZ Top, but we thought we had a winner when we spotted a Spartan near the EA hub, during the record breaking attempt. Complete with full outfit, spear and shield, and sporting the words "tonight we dine at Download" on his shoulder, this guy had it all. He told us he even had a pirate outfit for Sunday. But breaking the fourth wall? If you can't stay in character, we ain't interested. Jesus wins!
Winner: JESUS
---
Legends of Legends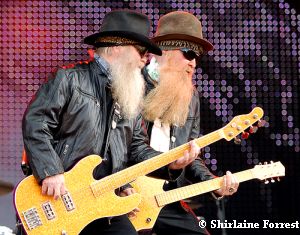 Precisely how many legends can you fit into one metal festival? According to Download, roughly one bazillion. This year, they managed to score (deep breath) Faith No More's first festival date (and second gig) since reuniting, Anvil's first Donnington in a 27 years, Def Leppard's first Donnington in 23, one of Thunder's last ever festival dates, one of Limp Bizkit's first festival dates since reforming, Dir en grey's first outdoor UK show (ok, not legends here, but they're pretty huge in Japan), professional Lord And Saviour Jesus Christ (see above), and probably more we've forgotten... plus the entire Main stage on Sunday was pretty much a who's who of influential rock and metal. We're still surprised Dream Theater guitarist John Petrucci did not kill them all and harvest their souls afterwards, as part of his epic quest to control reality so he can break the 5000 billion note per second barrier.
So with so much competition, who wins the Legends Of Legends 2009 Award? Our choice of winner may surprise some. What we considered was not audience participation, flashy sets or fancy clothes, but honest to goodness simple showmanship and flair. And when it came to these guys, they were miles ahead. Sure, they had the odd decade or two up on some of the rest of the competition, but they've used that time wisely to hone a set where not only every note was perfect, but every gesture and every move, comedic or not, was executed with just the right amount of style to make it work. So while Faith No More or Def Leppard grab the headlines, these guys were quietly blowing them all offstage. Chinese military philosopher Sun Tzu said, "What the ancients called a clever fighter is one who not only wins, but excels in winning with ease." If that's true, then ZZ Top were the smartest band on all weekend.
Winner: ZZ TOP
---
For the rest of this year's Download 2009 report, check out our Interviews - click here.
Further links
Official website of Britain's best metal festival